QUITO, ECUADOR
Medical Clinics
---
The medical clinics were in the suburb of Conocoto, just outside of Quito. The Taskforce rented a Basketball statum for $7 US for the four days. Patients came from all around Quito, some traveling four hours from the other side of the valcano Pinchicha. A few patients told me they decided to come to the clinic after hearing of it on the television!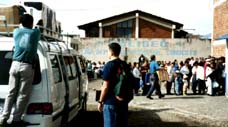 Our base of operations was at the house "Gilgal" in another
suburb or "colonia". We had to load ourselves and our Pharmacy
in a van and transport to the gym everyday. Renee the driver
got good at squeezing all the Pharmacy boxes and the medical
team in his 15 passenger van. Of course the boxes and the
"Porters" got more freyed as the week went on.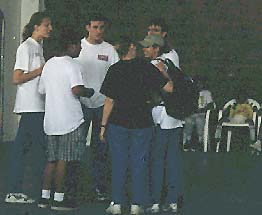 Of course, as things would have it, Heather got sick the first day.
She did manage to drag in none too worse for the wear, but
this wouldn't have been an adventure without some adversity.
(I can say this because I didn't get sick.)
The students all huttled with Dr. Mike to see which way to go first.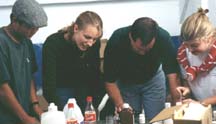 Dr. Mike's son, Kim, took over the pharmacy and did a great job!
The boxes where semi organized, he helped Flo set things up and did
the running to the docs to report on supplies. The picture shows
Coke but we all know he preferred Fanta.
BACK__
__HOME__
__NEXT