ISSUE NO. 7, MARCH/APRIL 1999
JIM ANDERSON, EDITOR
CLUB OFFICERS
President..............Dick Townsend, 776-9588
V. President......John McCutchon, 778-9426
jdmccadd@primenet.com
Secretary......................Joe Rogers, 775-4463
solar@northlink.com
Treasurer.................Jim Anderson, 771-0011
lestera@northlink.com
Maintenance .....Bruce Anderson, 775-4859
bcanders@northlink.com
Instructor................A.C. Goodwin, 445-1889
New Official PSS Address:
P.O. Box 11762
Prescott Arizona, 86304-1762
Prescott Soaring Societyís Web site (created and maintained by Bill Thrift)
http://members.tripod.com/~thrift/soaring/psa2.html
DONíT FORGET THE MARCH 19TH GENERAL MEETING AT YAVAPAI COLLEGE, BLDG. # 1, 7:00 PM. THE MAIN PURPOSE BEING THE ELECTION OF CLUB OFFICERS. ( If you cannot make the meeting, send a Proxy with someone who is legal to vote)
SCOTT GIFFORD WINS AWARD:
Each year, for the past 25 years, the FAA has presented awards to outstanding contributors in various aviation fields, one of which is aircraft mechanics. Club member Scott Gifford was selected for the FAA Mechanic of the Year Award for the Scottsdale District. After being nominated, Scott was chosen for the award by a committee of his peers for his outstanding contributions in the field of aircraft mechanics. Scott stated that one thing that might have contributed to his being selected was his co-authorship of a book on aircraft mechanics titled "How to Make Your Airplane Last Forever". Scott is now a candidate for the western regional award and if he is successful there, he would be a candidate for the national award. Scott said the one difficulty in the process was trying to get the trophies in the car to bring home after the awards banquet. The traveling trophy, which he gets to keep for a year, is three and a half feet tall. The personal trophy is twelve to eighteen inches tall and weighs fifteen pounds. We all wish Scott the best of luck in the next rounds of selection.
THE TREASURERíS CHEST
(For additional detail, see statement on the trailer bulletin board.)
Donít forget that we have a general meeting in March for the election of club officers. In order to be a "Member In Good Standing" (MIGS) and vote, your dues must be paid up, at least through Nov/Dec. Also, if you have an extreme emergency and cannot make the meeting, the club by-laws allow you a proxy vote. Just make sure that, whomever you give your proxy to, is legal to vote it.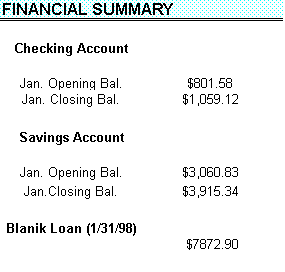 ---
FROM THE EDITOR:
The March 19th general membership meeting is important for everyone to attend. This is the "year-end" meeting at which the Board of Directors is elected for the coming year. All of the present board members have indicated that they will accept a nomination to serve another term. However, if there is someone that you feel could and would do a better job, nominations are always accepted "from the floor". Talk it up ahead of time so that you can nominate someone who is willing to run and who will take the job seriously.
MEETING SUMMARIES:
JANUARY GENERAL MEETING:
The meeting was not very well attended, in fact, there were only 13 members, one short of a quorum (with the result that no official club business could be voted on). Those who were absent missed a good presentation on cross-country flight experiences by veteran soaring pilot Bill Jones. Billís presentation included some very interesting personal experiences with cross-country flight in the Mojave Desert/Owens dry lake area. One thing that I got out of the presentation is that making cross-country flying safe and enjoyable requires three things, planning, planning, and planning.
Other meeting items included board member reports:
A.C. reported that all the glider annuals have been completed, and it is planned to switch wire ends Sat. Jan 23rd. The flight examiner is coming up Sun. Jan 24th to administer Edís commercial flight test.
Joe reported on the status of the equipment transfer from the Prescott Soaring Assoc. to the Prescott Soaring Society. The goal is to have that activity completed by the March general meeting.
Treasurerís Report. (See the trailer bulletin board posting for details)
Bruce announced the formation of a committee to formulate plans for winch upgrades/backups with himself as the committee chairman. He put out a request for volunteers to serve on the committee.
A Policy and Procedure Manual has been completed and copies will be available in the trailer for memberís use. This document is a good place for new members to learn (and veteran members to review) the operationís procedures.
In-the-air communication was discussed, possibly it could be made easier with radio systems that have something other than hand-held mikes (i.e. a boom or collar mike). This will be looked into.
At approximately 8:15 the meeting was turned over to guest speaker, Bill Jones.
FEBRUARY 11TH BOARD MEETING:
The treasurerís report was submitted (see posting on trailer bulletin board). The consensus of the BOD was that as much money as possible be applied to the Blanik loan for rapid payoff.
Bruce reported that a near-new battery has been donated for the blue Ford pickup so that it is available if needed. The split in the winch drum has been repaired. Special thanks to former member Dick Blount for bringing out all his equipment to facilitate the repair. A large Cat battery has been donated by A.C. for use in the development of a workable wire welder. Parts and plans are ready for an improved battery charger, all that is needed is a skilled electronic assembly person (are you listening, Daryl?). An improved wire drum for the winch is being developed.
Itia Nemovicherís membership application was approved
There was some brief discussion about tightening up the clubís "inactive status" rules. Nothing definite was proposed.
The transfer of club equipment from PSA to PSS is still underway, expected to be complete by March.
Acquiring a Tost c.g. hitch (located on the bottom of the glider) to replace the bridle hitch on the Blanik was discussed. Bruce will try to get some cost details for further discussion.
Acquiring a replacement glider for the Zugvogle was discussed. The general consensus of the board was that this would be a good long range plan. (Club members should start thinking about what might make a suitable replacement)
Ideas were kicked around as to how to make it easier to get gliders in and out of the corral. The best long-term solution would be to turn the corral 90 degrees so that you can remove ships from both sides. A lot of work initially but has great benefits as far as facilitating glider movement. More on this later.
Dick summarized his visit to the State Land Department concerning the hang glider situation. A detail letter is available on file. Joe presented copies of correspondence to the State and Yavapai Co. disclaiming association with the hang glider group.
(for more detailed information on the meetings proceedings, contact Club Secretary, Joe Rogers.)
---
SAFETIES:
Editorís note: Summer is fast approaching and its time to start thinking about protecting ourselves from the intense sun exposure we experience as glider pilots here in the high plateau region of Arizona. I have shortened this article some by deleting some of the technical details and the sections on automotive glass and canopy tinting and films.
ULTRAVIOLET RADIATION HAZARD
by
Guy Ford Byars
UV poses very serious health risks. There is extensive medical evidence that UV causes several forms of skin cancer. Both Basal cell carcinomas, the most common skin cancer, and Squamous cell carcinoma, a more dangerous form of skin cancer, are directly related to long term UV radiation exposure.
UVA and UVB are quite different, yet both are damaging. UVB is the primary cause of both sunburn and skin cancer. UVA plays a role in skin cancer because it increases the carcinogenic effects of UVB. While UVA doesn't cause sunburn as quickly as UVB, UVA penetrates deeper into the skin causing a much more damaging burn. UVA also contributes to a wide variety of other medical problems including blood vessel and DNA damage. UVA has been consistently linked to skin changes associated with aging, such as skin wrinkling and sagging.
Pilots have high UV exposure
By the very nature of aviation, pilots are exposed to a great deal of sunlight. In order to fly we must be outdoors. Also, we in sport aviation usually fly when the weather is nice and sunny and stay outside at fly-ins from early in the morning until dark. Since there is less atmosphere to screen the sun at higher altitudes, the damaging effects of the sun are compounded by 4% for each 1000ft above sea level. Given that in order for us to pursue aviation we expose ourselves to a great deal of sunlight, what can we do to reduce our health risk from UV? There are many effective ways. Sunscreens, clothing, sunglasses, and UV filtering films all are effective in reducing UV exposure.
Sunscreens
The single most important thing to remember about sunscreens is to USE THEM! You must follow the instructions provided with the sunscreen and reapply them as directed. Sunscreens can not protect you unless you use them!
The effectiveness of sunscreens is usually rated by a sun protection factor (SPF). Also, the SPF is only an indication of the protection against the UVB. It gives no information whatsoever about the sunscreen's ability to protect against UVA. Indeed, the majority of sunscreens available today, even those with SPF factors as high as 45, provide little or no protection in the UVA wavelengths. High SPF sunscreens without UVA protection can be dangerous. They prevent sunburn which allow people to stay out in the sun longer, thus exposing themselves to large amounts of UVA.
Several sunscreen products have been recently introduced which effectively block both UVA and UVB. The most effective is a brand called "PHOTOPLEX" (available at pharmacies). The effective UVA sunscreens can be identified by the term "Broad Spectrum", or by a separate UVA screen factor.
Hats
While the baseball hat does cover your head (essential for those with thin hair), forehead and nose, it provides no protection for your ears, neck and cheeks. One of the most common places for skin cancers to occur is on the cheek, a place which the baseball hat does not cover. Instead of the baseball hat, you should wear a broad brimmed hat. Both cowboy hats and pith helmets are hard to beat.
Sunglasses
Not only does your skin suffer from the effects of UV, but your eyes do too. Eye damage, caused by UV, can easily be prevented by the use of high quality sunglasses. Most all sunglasses are now sold with information about their UV blocking abilities.
High quality sunglasses will state that both UVB and UVA are filtered. Avoid cheap sunglasses which just claim to "Block UV rays". They may only block a small amount of UVB, yet still allow significant UVB and UVA to enter.
Recommendations :
1) Always use a sunscreen. Do not be mislead by high SPF numbers. Only sunscreens which state that they are "BROAD SPECTRUM" provide protection throughout the entire UV spectrum. PHOTOPLEX is the most effective sunscreen in the UVA wave lengths
available today.
2) Wear as much clothing as practical. Always wear a large hat outside the cockpit and at least a tennis hat while flying. Throw those baseball hats away and get a hat which will provide protection for your entire head and neck.
---
LIGHTEN UP.........

mInDlEss rHetOrIc

........humor by Ed

People have always told me Iím paranoid but I tell ya ... they are out there. I see them lurking behind bushes, I see them hiding behind cars and airplanes. Little men with pocket protectors, pads of paper, calculators and a book of F.A.Rs in back pockets. Thatís right... Iím talking about the Acro Police. Self proclaimed F.A.A. inspectors crawling around doing ramp checks. Every time I step out of an airplane, one of these guys walks up to me with a book of all the F.A.Rs they think I have broken. And they always total the number of F.A.Rs, its always some strange number like 542 1/2. Actually these guys crack me up. I really worry about them. I think there is some kind of boredom issue going on with them. And of course, me being who I am, this opens a huge can of worms. I hack back at these guys with no mercy. I have always said that it doesnít matter if they are talking good about you or bad about you ... as long as they are talking about you. Iím not sure they would know what to do with themselves if they didnít have me to pick on ...... ... and vice versa. Some of the tactics they use though have me concerned. I was doing some acrobatics the other day and I saw all these guys down on the ground underneath me with a tape measure. When I landed one of them came running up to me, his eye's wide open, his face all red, happy like he just won the lottery, and he informed me that I did a loop 2 1/2 inches into a federal airway. This is serious excitement for these guys. Anyway, for me, its fun. Thatís what I like about the club. All the diversity ... so many characters. And despite all the hen-house complaining, I see these guys as brothers ... but I donít admit to it in public.

(I told you I was desperate for newsletter material.....Editor)

************************************** from Landings ......off the Internet

Food for Thought

In days gone by, Iíve proved my worth

By zooming low across the earth.

Iíve buzzed the valleys and the mountain ridges,

Iíve dove my craft beneath the bridges.

Iíve looped and spun and rolled my wings,

Iíve sung the songs that pilots sing.

Iíve tried most stunts, it must be said,

Yet never learnt to use my head.

So hereís a toast - To you and me!

But you drink both, Iím dead...you see.

AVIATION QUOTES:

I give that landing a nine....on the Rechtor Scale.

Try to keep the number of your landings equal to the number of your takeoffs.

Takeoffs are optional. Landings are mandatory.

Fly it until the last piece stops moving.

**************************************

(From the Editor: Although this article is not aviation related, many of our members are outdoorsmen/women so I felt that this was important information to pass along.)

In light of the rising frequency of human - grizzly bear conflicts, the Alaska Department of Fish and Game is advising hikers, hunters, and fishermen to take extra precautions and keep alert of bears while in the field.

We advise that hikers wear noisy little bells on their clothing so as not to startle bears that aren't expecting them. We also advise hikers to carry pepper spray with them in case of an encounter with a bear.

It is also a good idea to watch out for fresh signs of bear activity. Hikers should recognize the difference between black bear and grizzly bear excrement. The black bearís is smaller and contains lots of berries and squirrel fur. The grizzly bearís has little bells in it and smells like pepper.
---
EXAM TIME:
The minimum distance from clouds required for VFR operations on an airway below 10,000 ft MSL is:
A. Remain clear of clouds.
B. 500 feet below, 1,000 feet above, and 2,000 feet horizontally.
C. 500 feet above, 1,000 feet below, and 2,000 feet horizontally.
Answer below (this Reg. is directly applicable to PSS as the land section we operate off of is almost entirely under a federal airway).
a little applause, please:
Ed Powney cleared the last hurdle in the path of his commercial glider rating Sunday, January 24th by successfully passing the flight test portion.
Congratulations. Ed says his future goal is to get his certified flight instructor, glider (CFIG) rating.
Brett Austin solos 2-33 N5774S January 30th. Brettís rapid progress is a good example of the benefits of flying regularly. His first official flight with the club was on August 15th, 1998 and a mere five and a half months later he solos, all the while attending college full time. Quite an accomplishment, to say the least. At this rate it wonít be long before Brett has his glider license.
FLIGHT SUMMARY
January was a good month as far as the number of flights were concerned, ninety four (94) total. However, it was not so good as far as flight duration was concerned, twenty seven (27) minutes by Ken Swanson, being the longest flight. Thatís not too bad though, considering that many, if not most, clubs have to completely shut down during the winter months.
Brett Austin wins the Frequent Flyer trophy hands down for the month of January with 14 flights and a total logged time of 114 minutes. A.C. came in second with 11 flights not counting flights with students. New member, Tom Remmler was a close third with 8 flights. Eleven members did not fly at all in January thereby qualifying for the "Turkeys of the Month" trophy.
SCHEDULE OF EVENTS:
Board of Directorsí Meeting: (To be determined by the next BOD)
General Meeting: March 19th, 7:00 PM @Yavapai College Bldg # 1. Election of Officers and other club issues.
Weekend Soaring: Sat and Sunday, approx. 10:30 AM, weather permitting.
MEMBERSHIP CHANGES:
Itai Nemovicherís membership application was officially approved at the FEB. 11th board meeting. Itia hails from Marlboro, New Jersey and is a third-year student at Prescott College, majoring in photography. When Itia is not studying, or now, soaring, he enjoys skiing (not a full time hobby here in Arizona, this year at least). Good news to A.C., Itai brings no bad soaring habits with him as he has had no previous flying experience. Welcome to the club Itia, jump right in and contribute to the operation.
Wayne Merchant has requested inactive status as of Feb 1, 1999.
NEXT ISSUE:
If anyone has anything that they would like to include, get it to the Editor typed , or on a floppy disk in word processor format, call and dictate it if its not too long, or e-mail it to me, (lestera@northlinkcom).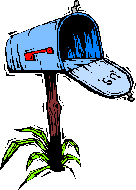 Remember, articles must be suitable for a family newsletter and must be submitted to the editor 10 days prior to the publishing month, March in this case.
If anyone wants, I will include a column for free aviation related want ads. They must be from members and be limited to 20 words.
REPORTER(S) WANTED:
The Editor would like to have a reporter(s), who fly regularly, to report interesting things that happen on those days when he , the editor, is not present. Any volunteers?
Donít forget to check your mail slot out at the field. There is a folder for each member in the plastic file box by the Bulletin Board. Who knows what you might find in there......dirty jokes, nude pictures, racy stories about fellow club members......not bloody likely but check it out anyway, sometimes there is some interesting stuff for you.
[THE VIEWS EXPRESSED IN THIS NEWSLETTER ARE NOT THOSE OF ANY SANE PERSON AND ALSO, NOT NECESSARILY THOSE OF THE PRESCOTT SOARING SOCIETY.]
Exam Time answer: B. (FAR 91.155)