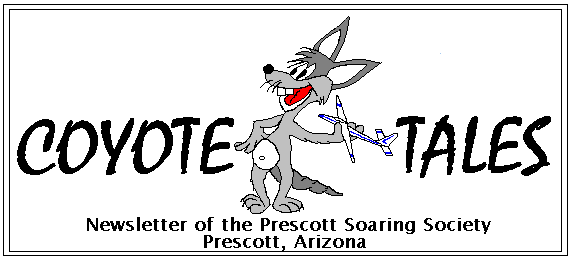 COYOTE TALES
NEWSLETTER OF THE PRESCOTT SOARING SOCIETY
______________________________________________________________________________________________________
ISSUE NO. 9, September/October 1999
JIM ANDERSON, EDITOR
CLUB OFFICERS
President..............Dick Townsend, 776-9588
V. President......John McCutcheon, 778-9426
jdmccadd@primenet.com
Secretary......................Joe Rogers, 775-4463
solar@northlink.com
Treasurer.................Jim Anderson, 771-0011
lestera@northlink.com
Maintenance .....Bruce Anderson, 775-4859
bcanders@northlink.com
Instructor................A.C. Goodwin, 445-1889
Prescott Soaring Societyís Web site (created and maintained by Bill Thrift)
http://members.tripod.com/~thrift/soaring/psa2.html
THE PRESIDENT REMINISCES:
PSS recently acquired three new members, all from Flagstaff. That started me thinking about FLG, and several incidents came to mind. There was an active soaring group in FLG about 30 years ago, when Bob Warden was the spark plug. They flew out of Koch Field, located in a basin NE of town. In June, 1969 the ASA (AZ Soaring Society, of PHX) had a weekend of flying at FLG with the local group. I remember the tow plane was gasping for air as it climbed in flat spirals. And how proud was Bill Ordway of his new
BG-12, outperforming his old 1-26. My log book shows respectfully long flights in ASA`s 1-26 and 2-22.
It must have been about the same time frame that ASA came for a weekend in PRC. I volunteered to crew for Woody Payne, an artist whose works adorn the walls of Terminal 3, Sky Harbor. Woody was flying a no-radio 1-26, so I had to stay close to a PRC phone. Mid-afternoon the call came; Woody was down in the NAU stadium! Beckie and I started out without topping the gas tank and almost ran out -- the miserly corvair became a guzzler when it pulled a flat-bed glider trailer. We found Woody, but had to wait for Campus Police to unlock the compound. Woody had been farther north and was cutting across FLG on his way back to PRC. But the city was short of thermals and Woody got low. He headed for a nice open space near the NAU stadium. As he got closer, and lower, he saw it had many twosomes, students lolling on the grass enjoying a sunny Sunday afternoon. So Woody overflew this field, cleared an 8` wire fence, then got it down and stopped short of the next fence. He was in a little securely-locked area at the end of the stadium. When the 1-26 was released we loaded it on the trailer and went for some chow. Heading out, we were soon stopped by the Highway Patrol for showing a white light at the rear of the trailer. It was a bare bulb showing, for the red plastic lens was cracked and mostly missing. Some fingernail polish on the bulb fixed that and we went on, dropping off the trailer at a dark Love Field. We drove to town for gas, only to find all the power was out. We had intended to drive on to Scottsdale, but the lack of gas changed our plans. We found a motel and conked out.
In August, `78, ASA had a weekend at Winslow. Come sunday afternoon, rather than disassemble and trailer home, why not fly Winslow-Estrella? I think it was Bob von Hellens, flying a Mosquito, who also agreed to try it. We launched and got together west of Winslow. I was in my ASW-15 and remember getting a strong thermal right over Meteor Crater -- what a view! Conditions weakened to the west, and we found we were lower than the ridge extending SE from the mountain. Bob got close, then did a 180 and went to Koch field, then about to be engulfed by houses. I persisted and found enough lift to get over the ridge, but a few miles found me trapped over Fort Valley. I explored it for quite a while from about 800`, radioed by crewman Dan Halacy (author of soaring books), found enough lift to maintain 800` for a while longer, but finally landed on a path across undeveloped land. Among those who gathered after my landing was a fellow who lived across the valley, kept his glider at home, and often landed in the field by his house. There was no way I was able to pick out that field as a suitable landing spot.
THE TREASURERíS CHEST:
Reminder:
If you havenít mailed in your SSA dues to me by the time you receive this newsletter, you only have a few days left to do it. If I donít receive your dues by the absolute deadline of Sept. 15th, you will have to send it in on your own. Remember, you must have a current SSA membership before you can solo in club gliders.
Please, members, pay your dues in a timely manner. Most do but a few donít. The club treasurery is not that flush and it counts on getting your monies in a timely fashion. I hate to send out reminders but sometimes its required.
Jim A. Financial Summary (As of 8/30/99)
Checking Account $811.76
Savings Account $2879.41
Blanik Loan Balance $5356.03
SSA Dues in Account $924.92
(for additional detail, see the statement posted on the trailer bulletin board)
THE TOOLBOX:
A Zugvogle Tidbit.
Bruce Anderson organized a small work party to work on the Zugvogle, which has had zero brakes. Bruce did most of the work himself, but corrected the problem. A braze joint had failed, allowing the brake cable to pull its connecting point off the metal band which rubs on the tire to provide friction.
Dick T. (and his fellow termites) made the test flights. On the first landing the rollout was excessive, so Bruce shortened the turnbuckle. Dick made a much better second flight, for he had learned to desregard the curious effects caused by water in the static system, and stayed up an hour. His landing, though, was just like the previous one. His explanation is that there is very little friction generated by a rubber tire rubbing against a smooth metal band in the presence of all that grasshopper juice. Something else to blame on La Nina.
AUGUST 5TH BOARD MEETING SUMMARY:
The Treasurerís report was presented. In summary, the checking and savings account balances are $601.51 and $2,080.49 respectively. $5,522.48 is currently owed on the Blanik.
A wire-end swap is planned for Saturday, August 7th if the field is dry enough to get onto.
A.C. reported that the Zug. wing has been repaired and that he took a 112 mile round-robin flight to check it out. It was also noted that it is in need of some work on its brake (which is at present, non existent). A.C. repaired the winch front wheel which was being worn through by the wire. A.C. and Ken spent much of one Sunday out in the rain getting it reinstalled.
Some ideas were kicked around about needed improvements to the winch. Jim A and Bob S. have some plans to improve the wire path through the rollers to help prevent splice hang-ups. Bruce has volunteered to help with the welding. A new drum is also needed as the present one is badly out of balance. Ideas on this varied from the "engineered" approach of Dick T. to the "make it simple and strong as hell" approach of Bruce. Dick has volunteered to try to get some design advice from the mechanical engineering experts at ERAU.
It was concluded that having a line chief in charge of the day-to-day operation at the field is still a good idea and that the board members should take the initiative to keep it going. Lead by example, so to speak.
Requiring club members to take a check ride if they havenít flown for several months was discussed and it was generally agreed that it be made a requirement. What was not generally agreed upon was who should give the check ride, i.e. an instructor or any qualified licensed pilot. Also there was some disagreement as to the length of time of inactivity before a check ride is required. Once all this is hashed out, it will be in the "flight manual of the future". It was also agreed that all pilotís licenses, both student and pilot be up to date and legal before flying club equipment.
Potential changes to the by-laws were proposed and discussed. While many of the proposed changes are purely editorial some of the more significant items include: a) adding provisions for temporary membership, b) clarifying what assessments are, c) clarification on the number of memberís vote required to expel a member, d) clarification on the actions possible on members who are delinquent in paying their dues and e) clarifying the requirements for "inactive" members.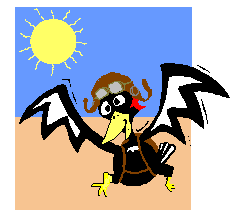 Encourage the Early Bird program.
a little applause, please:
Ed Kiger solos in the 2-33 on June 27th. Then on Saturday, August 21st Ed took his check ride and oral exam and passed his commercial glider test. Ed rode with an examiner, who is new to us, by the name of Tom Allen. As expected, Ed did an excellent job and passed with flying colors.
Teen Ben Thrift jumped out of the nest and soloed the 233 on Sunday, Aug. 15th. Weather conditions were ideal and Ben flew the glider like a pro. There to cheer him on were his dad Bill,
and sis Nicole, whom are also glider pilots. Mom was also there to round out a very supportive family. To be sure, this is a big step forward for Ben and is an event he will always remember and be proud of. Not many teens have the "right stuff" to become a pilot.
Also on Aug. 21st Jim A. took and passed the oral and flight exam for his CFIG license. Jim flew with Jim Burch who is phasing out of the examining business.
Editors note: Jim Burch has been "our" examiner for at least the last 11 years , and probably more. His professionalism and pleasant manner will be sorely missed throughout the aviation community should he decide to hang up his PTS manual.
NEW MEMBERS:
No, it wasnít the annual southern migration of an odd looking gaggle of prehistoric birds, just three hang glider pilots from Flagstaff who have decided to roost at PSS and take up the sport of flying gliders.
Rik Fritz lives in Flagstaff and is a carpenter currently working at NAU. Rick has 3000+ hours of hang glider time but, as of joining PSS, no glider experience.
Rick is married and his wife Betsy also has hang-glider experience. (Its nice when a family can "hang out" together)
Wayne McLellan lives in Flagstaff, is married (wifeís name is Mary) and is self-imployed. Wayne is a licensed glider (aero-tow) pilot but has been inactive in glider flying for the last several years. Wayne also is an expert hang glider pilot with many years of experience .
Tom Motsenbocker is also from Flagstaff, married (wifeís name is Beth), and like Rik and Wayne, has extensive hang glider experience, although previous to PSS, no glider time. Tom is a mechanical engineer, machinist and machine designer and has built several A/C from kits.
Welcome to the club, gang. From observances so far, you bring a love of flying and an enthusiasm for participating in the activities that we havenít seen in some time. Perhaps with your extensive experience in cross-country flying you can be a catalyst for more of that club activity.
QUIZ TIME:
On a wing, the force of lift acts perpendicular to and the force of drag acts parallel to the ---
a. chord line
b. flight path
c. longitudinal axis
(answer on page 7)
SAFETIES:
From "Towlines", Newsletter of the Albuquerque Soaring Club.
Thermaling Etiquette:
Whether it's 2 or 22 gliders, a gaggle of sailplanes working the same thermal is a beautiful sight. But, when you are in that thermal, you can never forget that this is deadly serious business. Your safety, and the safety of the others in the thermal depend on your conduct. Thermaling etiquette is not just being polite, it is being sensible and safe.
Rules of Etiquette:
1. You, as pilot-in-command, have the the ultimate responsibility for the safe conduct of your flight.
2.No one owns a thermal. It can be shared, but it is never owned.
3. The first person into a thermal defines the direction of the circle. It doesn't matter whether you come in above or below someone, always circle in the same direction.
4. Once in a thermal, don't change your direction of circle, except to match the other guy. Changing direction (e.g., circling left then circling right) is potentially hazardous, confuses other pilots, and will usually cause you to lose the core.
5. If you are near the same altitude as another glider, it's recommended that you try to stay on the opposite side of the circle from them. It's safe - you can see each other. It's efficient - watching each other will help you both center the thermal better and climb faster.
6. Avoid flying at another glider's "6 o'clock" e.g. directly behind them. In fact, you should avoid all of their blind spots. When they can't see you, they can maneuver in a way that is dangerous to the two of you.
7. If you join a thermal near another glider's altitude, join in a way that allows him to see you. That is, always join the circle on the opposite side of the circle flying in the opposite direction from the glider that is already in the circle. It is often necessary to make a wide circle outside the edges of the thermal until you can adjust your circle to be opposite the other glider as you join them in the thermal.
8. Use your radio! Announcing your position, or your intentions, can prevent many problems. You should both be on 123.3 (for PSS). If the other person sharing the thermal with you is less experienced than you (or, is acting like he is less experienced), by virtue of your experience, you have the added responsibility of conducting your flight to keep both of you safe.
WHATS NEW:
After experiencing several wire breaks the previous Sunday, A.C. figured it was time to swap ends of the tow wire. As of that time the wire had approximately 350 tows and there were many spilces. A.C., Ken, Ed K., Jim and Lee (a potential member) came out early Aug 7th and accomplished the task. Things went smoothly and the job was done by 11:00 am. As the old chinese saying goes, many hands make light work, (especially when the hands know what they are doing). Many thanks to all those who participated.
FLIGHT SUMMARY:
The Frequent FlyerTrophy for the months of June/July goes to (who else) Ken with 21 flights. Not far behind were A.C. with 19 (not counting
flights with students) and Ed K with 18.
Glider usage for the months of June/July are shown in the following table.
JUNE GLIDER MINUTES FLIGHTS
1-26 612 11
2-33 1463 49
BLANIK 248 4
ZUG 207 3
OTHER 659 10
TOTAL 3189 77
AVE MIN/FLT 41.4
JULY 1-26 578 16
2-33 1321 56 BLANIK 0 0
ZUG 0 0 OTHER 170 3
TOTAL 2069 75 AVE MIN/FLT 27.6
July 10th, A Typical Soaring Day in the Arizona Monsoon Season.
When I left the house in SW Prescott to drive out to the soaring site just north of Prescott Valley, localized thunderstorms were developing south and to the west of Prescott. However, the sky was clear toward the field. About half-way out I looked back in the rear view mirror toward home and could see numerous rain cells in progress and thought to myself my wife Marilyn is probably wondering what possesses sane people to go soaring when itís pouring down rain.
When I arrived at the field and approached the tie-down area under clear blue skys, I was pleasantly suprised to see such a good turn-out of members. In the past few weeks we have sometimes had just the bare minimum required to operate.
We got just two club ships out to start with, the 1-26 and the 2-33. In the summer moonsoon season here in central Arizona thunderstorms can develop and move in from the surrounding mountains in a matter of minutes. It pays to be prepared to pack up and head out quickly before the lightening, high winds, heavy rain, and sometimes hail, make being up in a glider, or out in the open, an unpleasant situation to say the least.
As the day progressed, cumulus clouds developed around the area and the soaring was good, although not great. Most flights stayed up, one or two going to 10,000 ft or above. However, around 3:00 in the afternoon, thunderstorms developed in the mountains to the east and to the southeast of the field. It soon became obvious that these storm cells were approaching, lightening was getting closer and the winds had shifted 180 deg. from the northeast at 20 to 25 knots. It was time to shut down the operation and the sooner the better. Rhonda and Dent landed the two gliders without incident and the operation was secured befor the rains started. Just as we were pulling out on Coyote Springs Rd. toward highway 89A, the deluge started and in the short time it took to get to the paved highway the dirt road was a muddy mess.
Fairly typical operation for this time of year in Prescott Az. This time we made it out before the storm struck, we are not always so fortunate.
Jim A.
SCHEDULE OF EVENTS:
Board of Directors Meeting (TBD)
Weekend Soaring: Sat and Sunday, approx. 10:30 AM, weather permitting.
NEXT ISSUE:
If anyone has anything that they would like to include, get it to the Editor typed , or on a floppy disk in word processor format, call and dictate it if its not too long, or e-mail it to me, lestera@northlink.com.
Remember, articles must be suitable for a family newsletter and must be submitted to the editor by August 20th, 10 days prior to the publishing date.
Answer: (b) Lift acts upward and perpendicular to the relative wind. Drag acts parallel to, and in the same direction as the relative wind, which is parallel to the flightpath.
The views expressed in this newsletter are those of the individual "authors" (Iíll put practically anything in this newsletter) and not necessarily those of the Prescott Soaring Society.