ISSUE NO. 11, November/December 1999
JIM ANDERSON, EDITOR

CLUB OFFICERS
President..............Dick Townsend, 776-9588
V. President......John McCutcheon, 778-9426
Secretary......................Joe Rogers, 775-4463
Treasurer.................Jim Anderson, 771-0011
Maintenance .....Bruce Anderson, 775-4859
Instructor................A.C. Goodwin, 445-1889
Prescott Soaring Societyís Web site (created and maintained by Bill Thrift)
http://members.tripod.com/~thrift/soaring/psa2.html
---

THIS IS THE CAPTAIN SPEAKING
OPERATING THE WINCH:
Being launched by a winch is step #1, but step #2 is almost as important-operating the winch to launch others
. Reasons for learning to run the winch:
1. You are needed--there are times when a glider canít fly because no one is available to operate the winch.
2. In our do-it-yourself club you wonít be considered a "complete" member until you can run the winch.
3. There is a lot of self-satisfaction in being able to run it. While not terribly difficult, it isnít too easy, and one gets a satisfaction from pulling a good tow similar to that one gets from making a perfect landing. I encourage all members to get checked out in operating the winch, and look upon it as a new achievement that will require dedication and improvement.
So much for the Mr. Good Guy. Recently I had tows (no names please) that shot me off only to leave me hanging a few feet in the air wondering whether Iíd be going up or down in the next few seconds. The operator had engaged the transmission at too high an engine speed, and the shock made it difficult to continue with a smooth acceleration. I encourage operators to engage the transmission a little above idle and with zero delay, increase speed smoothly. If done right, the operator will see the glider in initial climb just as the throttle reaches the position to maintain that desired climb speed. Regard winch operation as an art form available only to a fortunate few.
Dick Townsend
---
THE TREASURERíS CHEST
By the time you get this newsletter, the Canadian Winch, "Ole Yeller" will probably be at the field. Bill Nutting has agreed to go to Sweetwater, Montana, right on the Canadian border, and tow it back. A.C. is going along to ride shotgun. Hopefully, this winch will provide a backup to "Ole Frankenstein" and keep us in the air for years to come.
The cost of the winch will be $3000 plus transportation expenses, which will take most of the clubís current assets. The Board of Directors is interested in refinancing the Blanik loan at a lower interest rate, currently 10%. If any club member is interested in loaning the club approximately $4500 for from three to five years, just submit a written offer and the Board will accept the one with the lowest interest. Note that the club has a very good reputation for paying off its obligations, most often far earlier than required. We would like to make a final decision on this at the Nov. 20th General Meeting.
There are still a few members who are late in their dues and or SSA dues payments. Come on folks, check your records and pay what you owe. The treasury needs the money. Jim A.

Financial Summary (As of 10/25/99)
Checking Account $657.09
Savings Account $2765.68
Blanik Loan Balance $4515.62
(For additional detail, see the statement posted on the trailer bulletin board)
---

THE TOOLBOX:
Not much has been happening in the maintenance arena that has not already been mentioned in the Board Meeting summaries. Ken and Rik were instrumental in getting the weeds mowed down within the compound. That lessens the potential fire danger considerably. Thanks a lot to you both.
We are still developing the best way to lay the tow wire out in the grass to lessen its wear. Once we get the bugs worked out it will hopefully result in longer tow wire life.
We donít know whatís going to be required to get the "new" winch up and running. We were told it runs and works but we donít know how well and what modifications may be required to make it compatible with our operation.
Everyone needs to pitch in and help out with the operation. If you see something that needs doing, just do it. If you donít know how, there are lots of "experts" available that will show you how.
---
BOARD MEETING SUMMARIES:
September 19, 1999
Flight Chairmanís Report: Most of the rebuilt motor and transmission work has been completed. With the exception of a few incidentals, the unit is ready to go. Crotch straps and an extra seat belt safety lock have been added to the Blanik for added security, especially when doing aerobatics.

Maintenance Chairmanís Report: The winch starter has been repaired. An attempt was made to fix the Zugvogle brakes without much success. Dick Townsend and Bob are looking into replacing the wheel with a drum brake system as was done for the 1-26. Whew, no hail damage occurred during the recent PV hailstorm, missed us by a couple of miles. Some day we might not be so lucky. A new battery has been purchased for the winch.

General/New Business: The method of amending the clubís current By-Laws was discussed. Jim and Dick will prepare a draft for Board approval based upon previous detailed change recommendations. If the club imposes a membership limit it was agreed that it should be in the Policy and Procedure Manual rather than the club By-Laws.
The club has been invited to participate in the Airport Fair Days at Prescottís Love Field. There was little interest since we are not in dire need of new members. If contacted by the Prescott newspaper, the club will prepare an infomercial article for publicity.
To facilitate club equipment title recording, etc. A.C.ís address will be used as the clubís permanent address. The club will let the P.O. box address expire as it is hardly ever used and is felt to be a waste of club funds.
The Board agreed to reimburse Joe for his $32.00 radio battery purchase.
The Board voted unanimously to actively negotiate for the purchase of the "Canadian" winch. Once all the cost/shipment details are known, the club will decide on the best way to finance it. The cost for the winch is thought to be $3000. Bruce will be in charge of the negotiating.
Dick has solicited engineering support for a new winch drum from ERAU engineering personnel.
It was agreed that the clubís Flight Chairman (A.C. in this case) must approve any member who instructs for the club. Should the Flight Chairman disapprove of a request, an appeal may be made to the Board of Directors. Jim A. was approved to instruct for the club.
October 14, 1999
Since the major reason for the Board meeting was to discuss the Canadian winch purchase, no minutes of the previous meeting were read or any financial reports given.
Since there were a majority of the Board members present, Oliverís application for membership was approved if he so chooses to submit one.
Winch Purchase:
Bruce shared the E-mail correspondence he and Hugh McColeman (of Canada) have had regarding PSSís purchase of their winch. Bruce had heard from Hugh that they would be unable to deliver the winch to Sweetgrass, Mont. as originally planned because they had no vehicle with which to tow it legally and it would cost $474 Can. to get it there. The Board members voted that PSS would offer to pay 1/2 of that amount to get it across the border. A conference phone call was placed to Hugh to negotiate the transaction. During the phone call, Hugh stated that the Edmunton Soaring Club would be able to trailer the winch to Sweetgrass for $60 Can. that they would pay for. Bill Nutting agreed to drive to Sweetgrass to pick up the winch and that he would coordinate the exact time and place with Hugh, the approximate time being sometime between Oct 28 and mid November. At pick-up Bill will deliver a certified check in the amount of $3000 Amer. made out to the Edmunton Soaring Club. Dick Townsend has agreed to provide the $3000 temporarily until other financial arrangements can be made. Jim A. stated that the club has almost enough money in the treasury to cover the transaction but it would drain the account to near zero.
Other Business:
Dick Townsend had a meeting with three ERAU professors regarding the present winch drum design. The design challenge may be given to the students as a class project.
The compound "lawn" is tall and drying out and in dire need of mowing before it becomes any more of a fire hazard. Any volunteers? There is a mower at the field that reportedly works if anyone has some time.
A general club meeting is being planned for sometime mid-to-late Nov. Perhaps a social event can be had in January.
---
MEMBERSHIP CHANGES:
We would like to welcome our newest members, Rick Hazen and son Nick Hazen from Cave Creek Arizona. Rick is a computer manager at TOSCO Corp and son Nick is a sophomore at Cactus Shadow High School. Neither have had any previous flying experience, but with their enthusiasm, their lack of experience will be short-lived. Nickís other interests include golf and target shooting. It's good to see them jump right in and become a part of the activity. WELCOME TO THE CLUB.
Gene Odgen and family are packing up and moving to Mt. Vernon Wash in mid November. Geneís motivational speeches toward safe flying practices will certainly be missed. Gene, we all have enjoyed your companionship here at the field, wish you luck and we hope you will keep in touch. E-mail is just a keyboard away.
Gerry Barber, Tom Remmler and Mike Guida are on "inactive" status.
---
QUIZ TIME:
A bi-annual flight review will consist of:
a. a minimum of 1 hr. ground training.
b. at least 1 hr of flight time to include at least three takeoffs and landings.
c. three takeoffs and landings and a review of those maneuvers necessary for the pilot to demonstrate the appropriate pilot privileges.
---
A LITTLE APPLAUSE, PLEASE: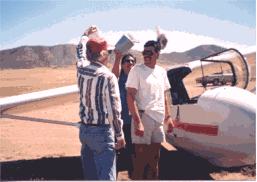 Rik Fritz solos the 2-33 Sept 26, 1999. Rik has twenty plus years of hang glider experience and made the transition to gliders effortlessly. In the photo above, new instructor Jim Anderson. on the left, cuts his first "tail" assisted in the dunk by Kit Kitaguchi.
Wayne McLellan also soloed in the 2-33 on the same day. For Wayne, it was renewing his glider license that had been inactive for several years.
Nicole Thrift takes a step up the soaring ladder by soloing in the 1-26 on Oct. 23rd. Nicole first soloed with the club in November, 1998.

CONGRATULATIONS TO ALL THREE
---
IN THE BEGINNING.............
Do you recognize the two men in the photo below? No, it's not Wilber and Orville, its Bob Sparling and R.E. Franklin with the Franklin glider.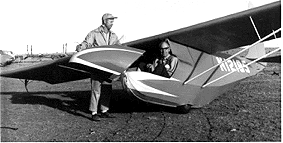 The Franklin was the clubís second ship. This picture was taken back in prehistoric times out in Chino Valley where the pre-club members used to fly off auto-tow. The open-cockpit Franklin was the 1-26 of the 1930ís with a gross weight of 400 lbs. and an whopping L/D of approximately 15:1. Its construction is wood/fabric wings with steel-tube/fabric fuselage.
The photo shows Bob replacing the "scoop" in preparation for the next flight. Bobís highest flight in N12185 was a chilly 18,600-ft,. As a point of reference, that's looking up from a DC-3.
A close inspection of the glider after an unexplained near stall-spin incident off auto-tow revealed some finish pealing on a wing spar (probably not related to the stall/spin incident) and so the glider was retired and now hangs in the National Soaring Museum at Elmira. Bob still hangs out at the Coyote Run Glider Port.
---
FIRST OFFICIAL EARLY BIRDS
The first real trial of the Early Bird program was held Saturday, Sept.18th. Brett and Rik requested it so A.C., Ken and Jim agreed to provide instructor/ground support. Itai and Bill Brink also participated.
Everyone arrived at the field about 9:00 am and flying started shortly after 9:30. Despite some winch starter problems and one wire break, Brett, Rik, Itai and Bill each got two pattern flights.
The general consensus was that the concentrated take-off and landing practice is helpful especially for new and/or non-current pilots. There is sure to be more Early Bird activities in the future.
In fact there was. It was requested again by the "Flag Flyers" for Saturday, Oct 2nd. Rik, Tom, Wayne and Itai each got in two pattern flights before the dayís normal flying started. A.C., Ken and Jim A. among others, provided support. The early turnout of all the support team is greatly appreciated.
Reminder: Its up to whomever wants Early Bird flights to round up the support team, i.e. instructors, as required, winch operators, wing runners/tow truck drivers. If club members who are willing to support occasional early bird sessions would let a board member know, a list will be published in the newsletter. That way the support chores can be spread around some.
---
A REQUST FROM THE WINCH OPERATORS:
Pilots, under normal circumstances, do not release from tow until the winch operator calls out "level off" and you have nosed down the glider to take the tension off the wire. When the wire is released under tension it snaps free and most often, causes a tangled mess on the winch drum usually resulting in a broken wire and an undesirable splice. It's a shame to have to splice a new wire for whatever reason. However, a broken wire is better that a broken neck. If you, as pilot-in -command feel a premature release is required for safety reason, then by all means release.
---
KNOW YOUR GLIDERS:
Page 8 presents some specification comparisons for the 1-26, the 2-33 and the Blanik L23 (which has essentially the same performance parameters as the clubís L13). Also included are the allowed L13 aerobatic maneuvers taken from the "Pilots Notes for the L13". Note that, according to the pilot's notes, slow rolls and inverted flight are not permitted when flying dual. There is also no mention of inverted spins being allowed when flying dual.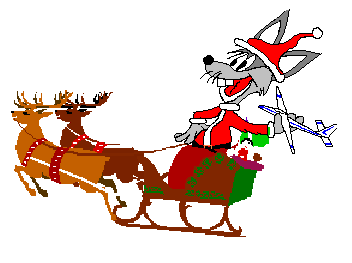 ---
THINGS, by Bill Brink
Things that make me nervous;
Seeing a pilot have trouble on his launch.
Reaching the top of my launch and waiting, waiting and waiting for the winch to pause and hear "level off, level off".
Reporting my position and watching A.C. and Rhonda heading for me in the Blanik with no response.
Turning on final and wondering if Ed P. is planning on a low pass.
Turning on final without radioing my intention and worrying if someone else has the same idea.
Having the glider drop out from under me.
Too much lift without some sink to help me down.
Lightning.
Things that please me;
Watching a first solo.
Watching a successful license check flight.
Listening to the members share their experiences.
Beating the rain back to the ground.
Having crotch straps in the Blanik and 126.
Having Ed P. and Ken S. around to harass.
Meeting new members.
And watching all the members fly.
---
FLIGHT SUMMARY
Once again Ken Swanson wins the "Frequent Flyer" trophy for the August/September period with a whopping 33 flights. (Youíd think that with all that practice he would finally get good at it). Ed K., Bill T., A.C., Rik, Itai and Jim all had more than 20 flights.. Nine turkeys members did not fly at all during August/September.
| | | | |
| --- | --- | --- | --- |
| August | Glider | Minutes | Flights |
| | 1-26 | 743 | 22 |
| | 2-33 | 1526 | 108 |
| | Blanik | 196 | 6 |
| | Zugvogle | 21 | 2 |
| | Other | 319 | 3 |
| | Total | 2805 | 141 |
| | Average Min/Flight | 19.9 | |
| | | | |
| September | 1-26 | 463 | 28 |
| | 2-33 | 1214 | 91 |
| | Blanik | 681 | 22 |
| | Other | 424 | 3 |
| | Zugvogle | 103 | 2 |
| | Total | 2885 | 146 |
| | Average Min/Flight | 19.8 | |
---
Someone was wondering how much the average cost per flight is at PSS factoring in initial fees, dues and tow charges. If a member flys 29 flights per year, which is the club average, and 2/3 of the flights are non-soaring, and assuming the $200 initial fee is spread over a five-year period, the cost per flight is just under $11. If you were to fly 93 flights per year, as one member did, the cost goes down to a little less than $6 per flight. Also, if you only flew 3 flights per year (shame, shame), your cost per flight would be $76. So its kind of like some of the ads you see in the newspaper, "The more you buy fly, the more you save". Compare this with the cost/flight anywhere else in the country and you will be amazed as to what a good deal you have here at PSS.
---
THIS AND THAT:
If you notice anything important missing at the field during the next few months it is probably our local snowbird Ken who is heading back to Yuma for the winter. The club will be a little less without him. Hereís hoping he makes it back soon and in good health.
Congratulations to our new winch runners, Wayne, Itai, Tom and Rik. The club wishes to thank you for taking the initiative to get checked out in a new and very important activity. If the winch doesnít run, we donít fly.
Rik and Ken fired up the olí putt putt lawn mower and did most of the work in getting the weeds cut down in the compound. Hopefully, this will lessen the potential fire hazard until next spring. Thanks again.
As this newsletter goes to press, Olí Yeller, the Canadian winch, is on its way from Sweetgrass Montana to Prescott. Bill Nutting and A.C. left Friday morning, Oct 29th, hitched it up Sunday afternoon and are heading home. We will get a more detailed report of their adventure at the general meeting, Nov 20th. Be sure to come and hear about it. Many thanks to Bill for volunteering his time and his suburban to make the retrieve and for A.C. taking time off work to accompany him.
---
SCHEDULE OF EVENTS:
General Meeting, Sat. Nov 20th, 7:00 PM
Airport Admin. Bldg. 2nd floor Conference Room
Board of Directors Meeting (TBD)

Weekend Soaring: Sat and Sunday, approx. 10:30 AM, weather permitting.
---
a. the flight review required consists of a minimum of 1 hr. of flight training and 1 hr of ground training.

NEXT ISSUE:
If anyone has anything that they would like to include, get it to the Editor typed , or on a floppy disk in word processor format, call and dictate it if its not too long, or e-mail it to me, lestera@northlink.com.

Remember, articles must be suitable for a family newsletter and must be submitted to the editor by December 20th, 10 days prior to the publishing date.
The views expressed in this newsletter are those of the individual "authors" (Iíll put practically anything in this newsletter) and not necessarily those of the Prescott Soaring Society. If you are offended by the Editorís sick humor, he will be glad to cancel your subscription and give you your money back.
Here are some important performance numbers for the SGS 1-26A. Clip them out and put them in your pocket so you can refer to them often.
Gross Weight 575#
Useful Load 220#
Load Factor +5.4G, -3.54G
Best L/D 23:1 @ 49 mph
Min. Sink 2.7 fps @ 40 mph
Vne (free flight) 104 mph
Vne (ground launch) 60 mph
Vne (aerotow) 95 mph
Stall Speed (level flight) 28 mph